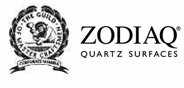 Zodiaq quartz has been engineered to incorporate pure quartz crystals.
The crystals within gives Zodiaq quartz a unique look and design for your kitchens and bathrooms. This type of quartz is long-lasting and delivers the balance between beauty and durability. It's non-porous nature make it ideal for use in kitchens and bathrooms.
Zodiaq quartz has been certified to adhere to strict chemical emission limits, ideal for those concerned with healthier, more hygienic interiors, such as surgey surfaces or professional catering surfaces for example.
Contact us today for more information.