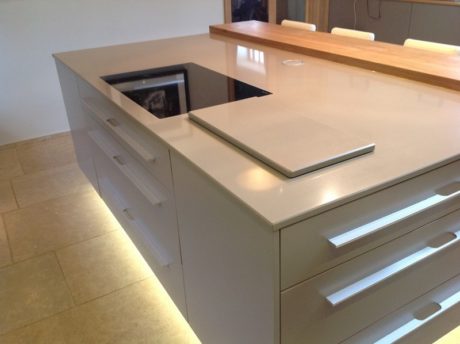 Chandler Stoneworks are specialist suppliers of marble, granite and quartz, offering an extensive collection of beautiful stoneware for kitchen worktops, kitchen flooring, bathroom flooring and much more. We provide bespoke flooring and other surfaces, from bath surrounds and fire hearths to unique granite kitchen worktops and tailor-measure chopping boards – all you could possibly wish for to create the kitchen or bathroom you've always dreamed of.
Chandler Stoneworks is an independent, West Sussex based company with over 10 years' industry experience of supplying first class stoneware to homes all over the South East, including Chichester and the surrounding area.
Our Services
Our professional customer service team is on hand to offer you a completely bespoke service to make sure you choose the perfect natural stone material for your new kitchen, bathroom, worktop surface or flooring. Our experienced stonemasons work with marble, granite, limestone, slate, quartz composite and many other materials, providing expert advice on the best type of natural stone for your home, whatever your requirements or specifications.
Chandler Stoneworks offer a full project management service to homes in Chichester and beyond, to guide you safely through the entire project. This includes a full templating and fitting service to help you make the best use of the space available in your new kitchen or bathroom design.
Our service is entirely designed around your specific needs, and we offer competitive rates for a fast and reliable 7-10 day turnaround service from receipt of the initial template to the final installation, working with you all the way to ensure your complete satisfaction.
Once the installation is complete, we can provide you with the right cleaning care-kit to keep your new granite worktop, slate floor or marble bath surround in top condition for longer.
Granite Worktops
Granite is the perfect material for kitchen worktops, adding a touch of luxury to any contemporary kitchen design. Available in a dazzling array of natural colours and unique patterns to suit any style, granite is waterproof, heat and stain-resistant and incredibly hard wearing. If you're after a real design statement that won't compromise on functionality, choose from Chandler Stoneworks' extensive collection of granite kitchen worktops.
Marble & Limestone Worktops
Chandler Stoneworks offer a great selection of stunning marble worktops, suitable for both kitchen and bathroom designs. Marble is a metamorphic rock that comes in a vast range of unique and subtle colours; it is often interspersed with contrasting mineral veining to give it that characteristic appearance. Both durable and scratch resistant, marble worktops are perfect to add traditional class and sophistication to your kitchen or bathroom.
Limestone, a sedimentary rock, is a softer material that incorporates shell and mineral deposits; it is generally lighter in colour and particularly suited to bathrooms and fireplaces.
Slate
Polished or honed slate makes beautiful natural stone worktops that are very durable, liquid resistant and stain-proof. Chandler Stoneworks has a selection of black, grey and green slate for you to choose from, with other colours available on request.
Brands
As leading suppliers and installers of granite worktops, marble worktops, limestone flooring, bathroom countertops and much more to homes in Chichester and West Sussex, Chandler Stoneworks are delighted to be working closely with a number of leading brands including:
Ceasarstone – Top quality stone tiles and worktops that are suitable for a wide range of home interiors. Ceasarstone quartz surfaces are durable and flexible, and available in over 30 colours.

Compac – Technological quartz manufactured from pigments, resins and pure quartz, Compac marble and quartz surfaces offer enhanced stoneware that is perfect for flooring and bathroom surfaces.

Stone Italiana – High-end worktops and stone tiles from this long established supplier who is always at the forefront of technology and design.

Testimonials
At Chandler Stoneworks, we want every client to be completely happy with their choice of natural stone for kitchen worktops, bathroom flooring or any of their interior design requirements. Having built up a very positive reputation in Chichester and West Sussex as suppliers and installers of granite, marble, limestone and other natural stoneware, we are pleased to share our clients' experiences here.
Get In Touch
With a huge range of stoneware on offer, from granite and marble to slate and quartz composite, Chandler Stoneworks is the perfect supplier for kitchen renovation or bathroom design projects in the Chichester area. For more information about our products and services, please call our friendly sales team on 01903 885941 or contact us here. We look forward to hearing from you!
You're always welcome to browse our vast collection of stoneware at our showroom. We are open Monday to Friday, 9.30am-4.30pm and by appointment on Saturdays. It's always a good idea to give us a call first if you're planning a visit, just so that we have a member of staff ready to show you around. We look forward to seeing you!