Quartzite worktops are fabricated from natural stone and feature the gorgeous colouring and veining that only nature can provide. A popular choice for kitchens and bathrooms alike. Quartzite worktops are quarried and cut from blocks to create 20mm or 30mm slabs.
Quartzite is a stone that many consider to have the best of both worlds. It has the look of marble but gives you the strength of granite. It is a durable material that is heat resistant, scratch resistant, hygienic, and easy to clean. Quartzite is an extremely hard material and measures 7 on the Mohs scale. Only Diamond (10), Corundum (9), and Topaz (8) measure harder.
We seal the slabs during fabrication, and this is then required as yearly maintenance to keep them looking their best. Quartzite is a naturally porous material, meaning it can hold water and microbes, sealing this is an easy process only requiring the stone to be wiped over and then off, and would take no longer than the normal cleaning process.
Quartzite kitchen worktops can be a big investment – so you'll want to be sure that you're working with the leading experts in the field. Luckily for you, we have incredibly high standards and take great care at every stage. We source the best quartzite from tried and tested suppliers, as we believe that you can only achieve a great finish if you start off with great stone.
Once we've worked with you to choose the perfect quartzite, we will get to work measuring, cutting, and polishing.
The cutting process takes around 7-10 days on average. The majority of this will be done off-premises in our workshop, although we are able to make small adjustments on the day of installation to ensure a totally perfect fit.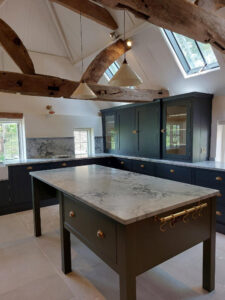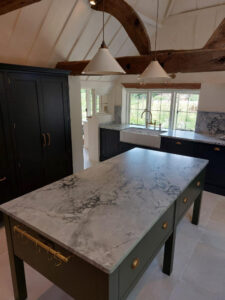 Types of Quartzites
Bianco Eclipse Quartzite
Macaubus White
Patagonia
Taj Mahal
Tiffany Blue Amazonite
Calacata Quartzite
Alta Quartzite
Why Choose Chandler Stoneworks
With substantial experience to our name, our team of expert designers have helped hundreds of customers throughout the South of England by fitting bespoke worktops supplied by some of the world's leading brands.
We pride ourselves on delivering a first-class service and always ensure we are on hand to answer any questions or queries you might have
Whatever your design requirements may be – from the size to the style to the thickness – we can help. Simply contact our team at your earliest convenience and we'll get back to you as soon as we can.