Marble and limestone are both exquisite natural materials. They are extremely popular for use in many areas of the home, adding elegance and sophistication to any interior scheme. Choosing either type of stone will make a stunning kitchen worktop for your home.
At Chandler Stoneworks, we have a huge variety of choices on offer when it comes to natural stone worktops for your kitchen, flooring or fireplaces. Take a look at our online gallery here where you will find many wonderful examples of kitchen worktops in marble and limestone.
Better still, why not arrange for a visit to our Arundel showroom and view a wonderful selection of samples for yourself?
The benefits of a marble worktop
Marble is a metamorphic rock that has been created by extreme heat and pressure. It has been used in buildings throughout history and is recognised for its beauty and hardwearing qualities. It is no surprise that marble is a byword for elegance around the world.
Here are the main qualities that a natural marble worktop will bring to your kitchen:
Marble creates a classic look; it is elegant and timeless in the world of kitchen design. It's the worktop of choice if you are seeking exceptional luxury and beauty in your kitchen.
Marble comes in a vast range of colours and patterns and is usually interspersed by contrasting mineral veining. The veining is marble's most beautiful and elegant feature.
Bakers and pastry chefs will know that marble surfaces remain cool, as the material doesn't conduct heat very well. For this reason, marble worktops are great for working with pastry.
Marble is classified into four categories A, B, C and D, according to its level of hardness. Grade A is the least flawed and has less veining. Grade D contains the most natural faults (veining). While grade D has the most flaws, it is also the most decorative and highly coloured.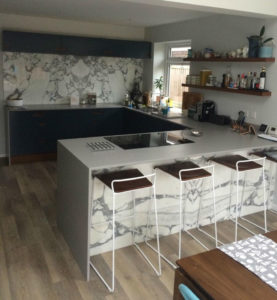 The benefits of a limestone worktop
Limestone is a soft sedimentary material mainly composed of calcite, from shells, coral and other debris. It is generally light in colour and has some shells and mineral deposits still evident within the material.
If you are looking for a sophisticated and distinctive worktop for your kitchen, limestone is a popular choice. More and more people are choosing limestone worktops on account on the stone's natural and consistent appearance. Here are the main qualities of limestone kitchen worktops:
Limestone is an extremely long-lasting natural stone, which makes it a durable choice for any kitchen. It is a hardwearing material that is comparatively easy to cut into blocks.
It is easy to manipulate limestone into different shapes, so if you have interesting or innovative kitchen design ideas, limestone is a fantastic material to work with.
Limestone is relatively homogenous but also varies according to its composition and levels of calcium. Dolomite limestone has magnesium in the mineral mix and is harder than plain limestone.
Subtle shades and occasional shell fossils make limestone an interesting choice for worktops. Some limestone has a lovely lustre and shine to it. There's no doubt, limestone worktops look great in the kitchen.
At Chandler Stoneworks, we have over 15 years of industry experience and a passion for providing the best natural stone worktops to private and commercial customers. We offer a highly personal service, a skilled team of stonemasons and a fully equipped workshop where we produce extremely high-quality kitchen worktops that have delighted our customers for many years. Call us on 01903 885941 or email sales@chandlerstoneworks.co.uk to find out more.
How to look after your worktop
At Chandler Stoneworks, the stone for your worktop has been carefully selected from premium quality stone slabs from the same block or batch to be free from defects. The piece will have been machined, prepared, polished, treated and approved by our craftsmen to ensure your worktop is a quality item to be proud of for many years to come with the right care and attention to maintenance.
Is it necessary to seal natural kitchen worktops?
Marble and limestone are relatively porous natural stones, which means they need to be protected against staining. Sealing worktops after installation will help prevent staining and damage to the stone.
Do limestone and marble worktops stain easily?
Acids such as lemon juice, vinegar or tomato juice must be wiped off immediately. The same goes for wine, beetroot and cooking oil, nail varnish and other solvent or oil-based products.
How should I clean marble and limestone surfaces?
Limestone and marble worktops should be cared for with a pH-neutral cleaner and warm water to preserve their natural beauty and shine. Never use bleach and use abrasive cleaning agents with great care, particularly on polished (high sheen) materials. Buff dry using a soft, clean e-cloth or kitchen roll.
Are marble and limestone worktops heat and scratch resistant?
Finally, marble and limestone may be tough but the surfaces are immune to heat or sharp objects. Ensure that hot pots and pans rest on heat resistant boards, and use a chopping board for food preparation.
The beauty of natural stone
Stone products will include natural imperfections that are not defects. Colours and patterns will vary from one piece of stone to another. No two pieces will be exactly the same. We cannot guarantee the colour or character of stone delivered and/or fitting will be an exact match to any sample previously offered.
Furthermore, the surface of the stone is not totally smooth – there are pits, fissures, eyes, chips and gaps. These cannot be polished out, as it is the natural state of the stone. We reserve the right to use chemical or resinous fillers, some of which may already be present in the stone worktop to affect any repairs.
Stone worktops do sometimes incur slight variations in thickness so a 2mm tolerance either side of the ordered thickness of the worktop is required. This tolerance is industry standard and is usually not noticeable in the final product.
Visit our FAQ page for more information about our range of natural stone worktops.