Marble and limestone are exquisite materials and they both make stunning worktops.
What is Marble?
Marble is a metamorphic rock that has been created by extreme heat and pressure. It is suitable for all kinds of projects and has been used in buildings throughout history. Marble comes in a vast range of colours and patterns and is usually interspersed by contrasting mineral veining. The veining is marble's most beautiful and elegant feature. Marble is widely used in bathrooms, as flooring and for fireplace surrounds. It is recognised for its beauty and hardwearing qualities.
What is Limestone?
Limestone is a soft sedimentary material mainly composed of calcite, from shells, coral and other debris. It is generally light in colour and has some shells and mineral deposits still evident within the material. It's a durable choice and extremely long-lasting.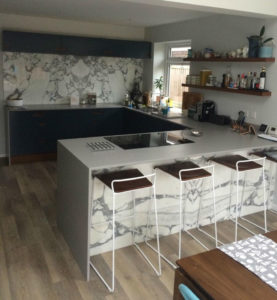 Why Choose a Marble Worktop?
Marble creates a classic look; it is elegant and timeless in the world of kitchen design. It's the worktop of choice if you are seeking exceptional luxury and beauty in your kitchen. Bakers will know that surfaces remain cool, as marble doesn't conduct heat very well. For this reason, marble worktops are great for working with pastry.
Why Choose a Limestone Worktop?
If you are looking for a sophisticated and distinctive worktop for your kitchen, limestone is a popular choice. It's easy to manipulate limestone into different shapes, so if you have interesting design ideas, limestone is a good material to work with.
Limestone is a hardwearing, durable material and is relatively easy to cut into blocks and shapes. Subtle shades and occasional shell fossils make limestone an interesting choice for worktops. Some limestone has a lovely lustre and shine to it. There's no doubt, limestone worktops look great in the kitchen.
Are There Different Grades of Stone?
Marble is classified into four categories A, B, C and D. The four grades represent fabrication ability, which is based on the material's level of hardness. Grade A is the least flawed and has less veining. Grade D contains the most natural faults (veining). While grade D has the most flaws, it is also the most decorative and highly coloured.
Limestone is relatively homogenous, but also varies according to its composition and levels of calcium. Dolomite limestone has magnesium in the mineral mix and is harder than plain limestone. Dolomite limestone is also able to take a flame finish.
How to look after your marble work top
The stone for your worktop has been carefully selected from premium quality stone slabs from the same block or batch to be free from defects and has been machined, prepared, polished, treated and approved by our craftsmen to ensure your worktop is a quality item to be proud of for many years to come with the right care and attention to maintenance.
Stone products will include natural imperfections. These imperfections are not defects in the material. Colours and patterns will vary from one piece of stone to another. No two pieces will be exactly the same. So we cannot guarantee the colour or character of stone delivered and/or fitting will be an exact match to any sample previously offered.
The surface of the stone is not totally smooth – there are pits, fissures, eyes, chips and gaps. These cannot be polished out, as it is the natural state of the stone. We reserve the right to use chemical or resinous fillers, some of which may already be present in the stone worktop to affect any repairs.
Stone worktops do sometimes incur slight variations in thickness so a 2mm tolerance either side of the ordered thickness of the worktop is required. This tolerance is industry standard and is usually not noticeable in the final product.
Hardwearing Stone
Granites differ in their texture but they all have similar properties such as their resistance to the invasive action of most substances found in the house.  Unlike marble and limestone, granite is the least affected by acids or alcohol.  It shouldn't be damaged from standing hot utensils on it but you should always use a stand for hot pans as there is always a risk of thermoshock occurring in the case of large temperature variations.
Stones Are Porous
All stones, due to their granular construction, are porous to a greater or lesser extent and most granites fall into the latter category.  To reduce the slight ability of granite to absorb liquids we treat the surface with a proprietary sealer that penetrates the surface and fills the microscopic voids between the crystals.  We provide a stone care kit for every customer. Be sure to reseal your worktops when water fails to bead up when splashed on the surface.
This sealing process will help prevent staining and damage to the stone.
You should be aware that with the lighter coloured granites and marbles, you may experience slight darkening of the stone in areas where water has been allowed to stand, but this should fade away as it dries out.
Beetroot, wine and cooking oil, particularly when hot may cause a stain on your marble or granite work top, you should always clean this up immediately with kitchen roll.
Acids and Alcohol
Marble and Limestone are susceptible to the aggressive action of acids and alcohol.  Care should be taken to remove spillages of fruit juice, particularly lemon, wine and vinegar, beetroot etc. e.g. the residue of red wine on the base of wineglasses will leave its mark. Nail varnish and any other solvent or oil based products will stain if not wiped up immediately.
Use abrasive cleaning agents with care, particularly on polished (high sheen) materials.
Avoid contact with extremely aggressive cleaning agents, such as metal polish and plughole un-blockers, and do not use cleaning products with a PH value >10.
Everyday Cleaning
On a day-to-day basis natural granite and marble worktops simply require a wipe down with a soft cloth soaked in soap (or neutral detergent) and warm water to maintain its natural beauty and shine. We recommend then buffing dry using a soft, clean 'E' Cloth or kitchen roll. Due to the popularity of stone worktops, many supermarkets now sell dedicated worktop wipes/sprays for everyday cleaning.