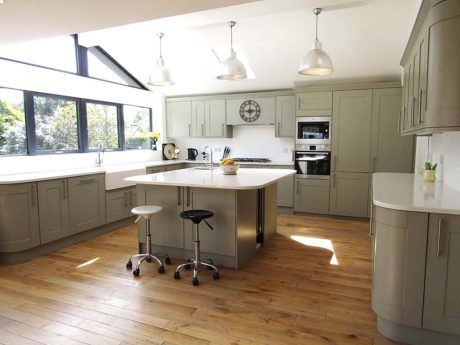 Our Services
Chandler Stoneworks offer a fantastic selection of natural stone kitchen worktops perfectly suited to meet the needs of your home and family. With a team of professional stonemasons we will work with you to find the perfect style of worktop for your kitchen, whether you are looking for a stunning marble worktop, a sleek limestone worktop, or a worktop made from quartz composite, granite or even slate to complete your kitchen renovation. Our 7-10 day turnaround from the initial templating to the complete installation and extensive experience in the design and installation of kitchens and bathrooms across Surrey and the surrounding area ensures a fast and reliable service, every time.
We provide a first-class project management service for kitchen worktops in Surrey, offering a full templating and fitting service in order to help you get the most use out of your available space. We also provide cleaning care-kits and maintenance products to ensure that your natural stone worktops remain sparkling and durable for longer.
Quartz Worktops
Quartz kitchen worktops are made from a specially developed quartz composite designed to be hard-wearing, durable and highly resistant to both heat and scratches. Available in a stunning range of different colours, quartz composite makes the perfect addition to any kitchen worktop design. Cosentino also provides an 'eco' range which is made from fully recycled materials.
Granite Worktops
If you're looking for something a little more contemporary, our stunning granite kitchen works add a sense of class to any design. Highly resistant to heat, durable and hard-wearing, they make the perfect addition to most kitchen environments and come in a wide range of speckled designs. Granite worktops can add a unique element to the whole kitchen.
Brands
Chandler Stoneworks work extremely hard to ensure complete client satisfaction in every service we provide. By working with a number of the leading brand manufacturers in this sector we are able to provide kitchen worktops and countertops of only the highest quality. A few examples of the brands and the materials we work with can be seen below.
Zodiaq Quartz – Specifically engineered in order to incorporate pure quartz crystals, zodiac quartz adds a unique look to its natural stone, making it the perfect extra touch to any kitchen or bathroom environment.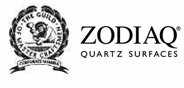 Arena Stone – With a range of different colours available, Arena Stone specialises in natural granite and natural marble worktops and kitchen counters. The worktops are highly durable and sleek, making a good addition to any kitchen.

Stone Italiana – With over 30 years' experience in the development of beautiful, high-quality stone tiles and worktops, Stone Italiana is constantly experimenting with new pigments, designs and techniques to create new and exciting stone worktop combinations.

About Us
As an independent, family-run business, Chandler Stoneworks work extremely hard to provide first class and beautifully made stone for worktops, kitchen countertops, bathrooms and more. With over 10 years' experience in the supply and installation of stunning stone tiles, Chandler Stoneworks takes pride in providing these kitchen worktops in Surrey and throughout the whole of Sussex, Surrey and Hampshire.
With tailor made flooring and other surfaces in a wide range of materials, whether you're looking for beautiful bath surrounds and fire hearths or a stylish kitchen worktop to finish off your new renovation, we can ensure that you get exactly what you need to finish the kitchen or bathroom of your dreams.
Testimonials
Having established a stunning reputation providing first class kitchen worktops in Surrey over the years, we take pride in each review and testimonial we receive. A few examples of our testimonials can be seen below, with more found on our testimonials page.
"Thank you so much to Stacey and the staff at Chandler Stoneworks for your excellent, friendly and efficient service. I am thrilled with the worktop and adore the quartz trivet you made for me. I will definitely recommend your company."
"Chandler Stoneworks are an extremely professional, friendly, efficient and caring company, with a job that was not straight forward. Nothing was too much and everyone I spoke to from the office staff to the craftsmen, all understood it was to be in budget and on time, basically perfect, which it was."
Get In Touch
Whether you are looking for the finishing touches for your new kitchen or bathroom renovation, or you would like professional advice on the best kind of kitchen worktop for your Surrey home, Chandler Stoneworks can help. Get in touch with us today by emailing sales@chandlerstoneworks.co.uk and we will get back to you as soon as possible.
You can also call us directly on 01903 885941 to speak to a member of our expert team who will gladly help with any questions you have.
To visit our stunning showroom, our opening hours are from Monday to Friday 9:30am – 4:30pm and on Saturdays by appointment only. We stock a beautiful selection of natural stone tiles suited for a wide range of different styles of kitchen and bathroom design. If you would like professional advice from one of our expert stonemasons or customer service representatives on the best stone tiles for your project, please call us in advance before visiting our showroom. We can then ensure that a staff member is available to show you around when you arrive. We look forward to seeing you soon.