08/07/2022
Popular Stone Trends
Granite
Highly prized for stunning aesthetics and hardwearing properties Granite is a naturally occurring stone that was formed over millions of years in the earth's crust. It has a densely packed crystalline structure, and these make it an incredibly durable and heatproof material. Lighter Granite's can be porous and therefore can stain if unmaintained, however darker Granites are more densely packed and therefore are less prone to staining. Granite was a huge trend that was slightly overtaken when Quartz become popular, however we are now seeing a comeback with homeowners requesting Granite more and more.
Recently we have seen a trend with the lighter granites offering warm natural beauty. Taj Mahal is a light ivory granite that goes very with many colours such as grey, black, white, beige, brown and cream. The name originates from the iconic Taj Mahal in India, as this worktop has the same beautiful white-ivory colour as the famous building with the addition of warm and subtle veining. This style is elegant and timeless.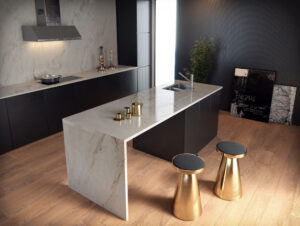 Another granite we are seeing requested more and more is the Fantasy Brown.  This granite is another warmer toned, lighter granite with incredible patterning and naturally formed detail. At a lower price point than the Taj Mahal and even some quartz options, this is certainty a new favourite. Suiting many styles and finishes, it's a great pairing for any kitchen.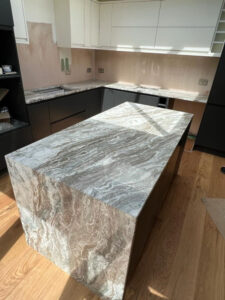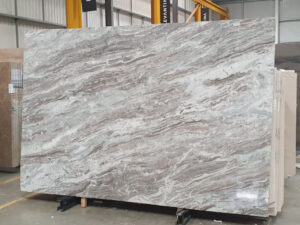 Quartzite
Quartzite is a stone that many consider having the best of both worlds. It has the look of marble but gives you the strength of granite. It is a durable material that is heat resistant, scratch resistant, hygienic, and easy to clean. Quartzite is an extremely hard material and measures 7 on the Mohs scale. Only Diamond (10), Corundum (9), and Topaz (8) measure harder. Quartzite can be a big investment but features the gorgeous colouring and veining that only nature can provide. With these qualities we are seeing an increase in demand for Quartzite and a popular favourite is the Bianco Eclipse, sometimes known at Bianco Eclipsia, Super White or Moon Rock. This unique quartzite stone is quarried in Brazil. It has a beautiful light grey background with strong veins, ideal for the bathroom or kitchen and as worktop. Bianco Eclipse is available as a polished (shiny) finished or a leathered (textured / matte) finish making it incredibly versatile. We are yet to find a cabinet it doesn't compliment.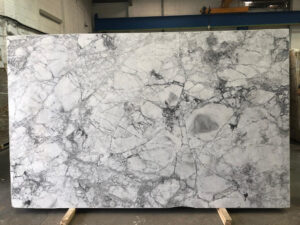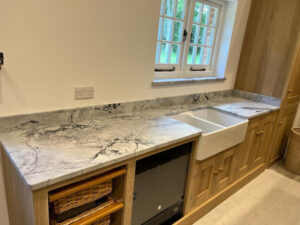 Marble
Marble is extremely popular for use in many areas of the home, adding elegance and sophistication to any interior. Marble is a metamorphic rock that has been created by extreme heat and pressure. It has been used in buildings throughout history and is recognised for its beauty and hardwearing qualities. It is no surprise that marble is a byword for elegance around the world. Although very hard wearing, Marble is a porous stone that does require some maintenance and can stain when meet with high pigment colours.
Marble looks are still very much "in" in the stone world. Designing with marble in your home elevates your space in a seemingly natural, effortless way. Heavily veined marbles such as the Arabescato Marble are gaining popularity for their visually striking features. However, Carrara Marble is and will be a favourite for quite some time. Some looks are classic and remain timeless and Carrara is one of them. This is the most widely replicated trend in quartz composites to date.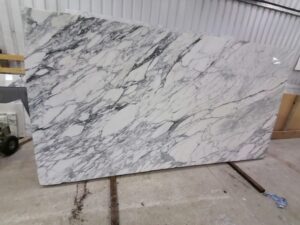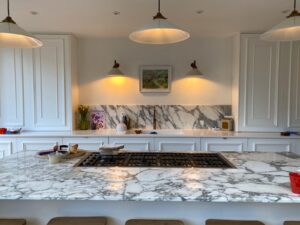 Quartz
Quartz is becoming a more and more popular choice for homeowners wanting stone worktop due its low maintenance, stain resistance, scratch resistance, antibacterial and non-pours qualities. Quartz requires no maintenance but is not a naturally occurring stone. Quartz is man-made and is built up of 93% stone and a 7% resin that bonds the product together. Homeowners can achieve the luxurious look of stone without the price tag of Marble or some granites. Due to its popularity, some quartz options can supersede the cost of some Granite options.
Although quartz does lack the natural beauty of granite or marble, there are so many design options, you can pretty much find something to suit any bathroom or kitchen. With so many options, Quartz can be a bit of a mind field, however recently we have seen some definite trends in the quartz world.
Currently more matte and concrete looking options are becoming more and more popular, these styles and finish compliment so many cabinetry options and make a real design feature in any kitchen. We are also seeing an increase in gold and warmer veining options such as Calacatta Gold, these tones can add a subtle warmth to lighter kitchens whist maintaining a sleek and modern look.