15/11/2022
Sensa Creative Design
This recently completed project contained a lot of elements we had previously tackled separately, but not all at the same time. When we originally received the brief there was a few questions on how this could be achieved. This idea was thought up by Kevin at the Kitchen Store in Hove and he was determined to achieve this look for his customers.
This 30mm Ice Blue Granite by Sensa is beautiful, however comes with its challenges. The peninsular needed to be supported and due to the weight (90kg per M2) the granite leg alone wouldn't have provided adequate, long lasting support. With a wooden beam, joins, angled edges and the thickness, we certainly had our work cut out for us.
The peninsular/seating area was created and achieved with the aid of steel supports, the wooden beam allowed us to drill in steel bars which were connected to steel boxes for the floating worksurface to sit on and take the weight of the granite.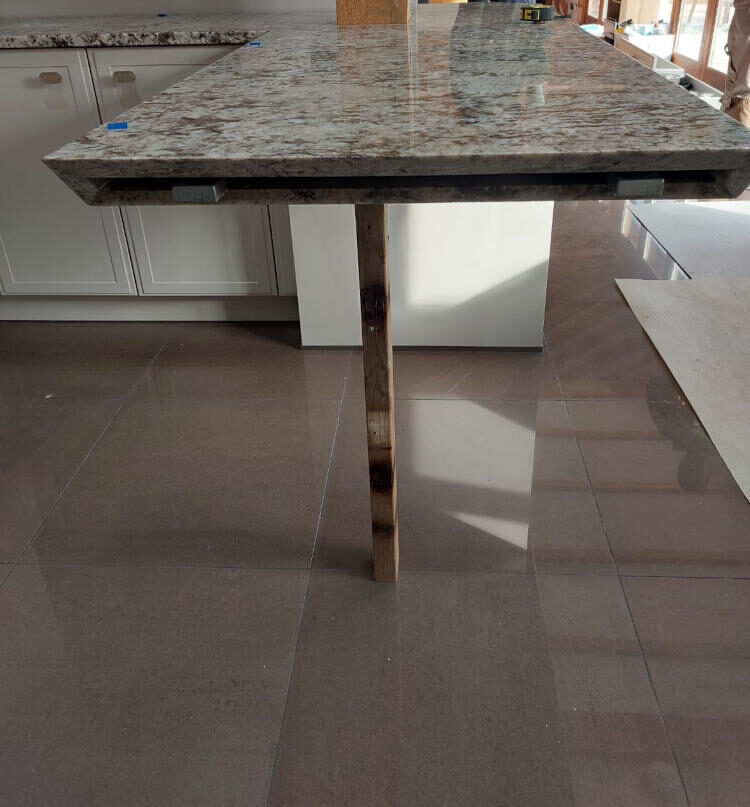 In order to then hide the steel bars, we had to mitre join 80mm slips to the top section and then mitre join a bottom slab of granite to effectively create a box.
This technique is often referred to as undercloaking and is usually used for overhangs on islands or seating areas with built up the edges, most commonly when a customer would like to achieve a thicker look than the standard 20mm or 30mm stone. However, creating a full underclocked box to this extent was a new feature for us.
This then had to tie in with the same process on the legs, the top section and legs were fully created in boxes in our worktop but had to be joined together and bonded on site.
We often undercloack slab end legs but not with this technique. Due to the thickness we had to create on the top, we then had to mirror this on the legs and angled feature of the peninsular so the deign was consistent. Each piece is cut and mitred in the workshop and bonded into place and polished during installation.
The rest of the kitchen was simple enough as this was completed in a 30mm finish throughout. Usually when building up the thickness of a stone with mitred edging, we would use a 20mm due to the weight, because this customer wanted a 30mm finish on all other surfaces, this was created with a 30mm stone throughout.
This was certainly a lot of work, but the finished result is simply stunning.
Check out the finished result.